Maggie King - Sculptor and Painter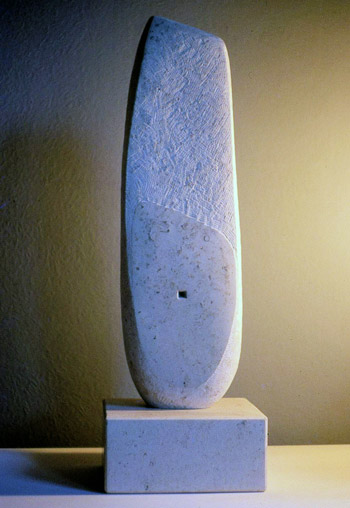 Meditation
My work is a response to the human condition in specific circumstances, particularly from a female perspective.
It strives to offer a profound, abstract statement with minimal form and image.
Maggie King's studio at Nettlecombe, Exmoor, is a haven of calm reflection. Her carvings in stone and wood have a stillness and purity that is a valuable antidote to the superficial and often aggressive tendencies in contemporary art today. Interest in Maggie King's work is growing – a stone carving was recently purchased by Robert Hiscox, one of the foremost collectors of contemporary British art of his generation and The Bernard Noble Sculpture Foundation in Italy proposed a commission for an outdoor sculpture. Her recent work, showing more ambition in scale, will enhance an already developing reputation.

Born in Northampton, Maggie King trained at the Sir John Cass School of Art, London, and at West Surrey College of Art and Design. A sculptor, principally in stone and wood, a painter and draughtsman she has exhibited widely in London and the provinces. Shows have included an invited exhibition with Sandra Blow at New Ashgate Gallery, Farnham. Her sculptures are distinguished by fine craftsmanship and an intuitive sense of balance and harmony and are informed by a feeling for the historical traditions of carving. These qualities are echoed in her small scale paintings and drawings that show her fine control of the most brief gestures of line and colour.

Largely unaffected by prevailing trends or fashions, she uses the process of carving for her own cathartic needs and with a natural restraint – her tendency is always towards understatement – she has built a significant body of work that is both personal and quietly individual.
Subscribe to email updates
If you'd like to be kept in touch with Maggie's forthcoming exhibitions, appearances, and new work, then simply fill in the form below and your email address will be added to Maggie's mailing list.